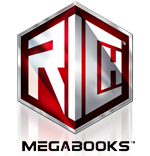 The #1 Website For Books To Read
RichMegaBooks.com celebrates all things books! The Rich Mega Books™ site is your source for the best new books by a small press and independent authors. Whether you're a reader looking for your next favourite read or a writer hoping to get your book reviewed, you've come to the right place.
Find the best books for your next read, including new books in all genres. Rich Mega Books™ is the trendy independent literary site in North America, bringing you news, and bookish commentary.
RichMegaBooks.com is an online literary news magazine dedicated to providing great coverage for debut and well-recognized authors.
The Leading Source For Book News & Reviews
Book reviews, recommendations, and the latest literary news from the most trusted voice in book discovery at RichMegaBooks.com.
Find expert book recommendations for the best books to read in all genres. Our goal is to connect every book lover with their next great read. RichMegaBooks.com covers all types of books – from literary fiction, history and biography to popular genres like romance and mystery.
RichMegaBooks.com has continued to pose the central issues of American life and culture. True Crime, Mysteries, Thrillers, Romance books, eBooks and audiobooks from award winning authors.